We pride ourselves in creating the very best in temperament, health & size. We are attempting to restore the large size of these magnificent pets.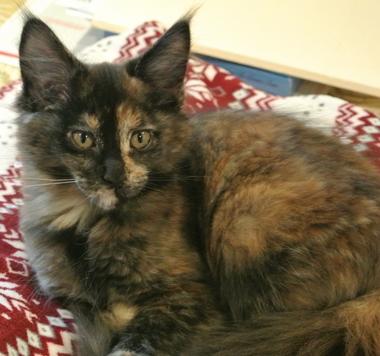 Our home is set up to house cats in their own unique environments. Queens who are pregnant enjoy the privacy in a dedicated room we prepared just for them to raise their young. We refer to it as the Queen/Nursery room.  You can learn more about our ever-evolving Cattery here.
All kittens are socialized from the day they are born. Mom's bear the task of taking charge of their children. Almost always things go smoothly but we are involved daily to make sure they continue to be healthy. There is always the possibility of a runt not getting enough nutrition and that's when we step in to help by bottle/syringe/tube feeding. We are diligent in weighing all kittens often to make sure they are progressing properly.
At 5 weeks they are allowed in the rest of the house to join the rest of the population/pride. At this time we have 2 studs and they are housed together in their own private room complete with outdoor catio. We are careful to keep our population low so each cat and kitten gets personalized Love and handling.
We have a Qualified person come to our home to administer all kitten shots and do worming twice. We have a Veterinarian that we have enjoyed over 15 years of services from. When your new kitten is ready to join your family he/she will only need Love and the right diet provided by you. You don't have to worry about getting subsequent shots, worming or being fixed.
I cannot stress the importance of a well rounded diet for your new addition. We have owned cats for over 20 years and used to use Purina. While Purina is a well known name, in our opinion the food simply does not provide enough nutrition. We use Royal Canin for all our cats. It costs a bit more but just like humans they are what they eat. A healthy diet can increase your beloved pets' life by years!
Because breeding Cats is our life's work, we have taken a lot of time to do all the research to the best of our ability to bring to the public a superior breed. We are so sure of the health of each and every kitten that we offer a whole One year guarantee of health
Our 1 year guarantee is for any genetic defects. Obviously we don't produce the food so you know this is something we believe to be the very best.
We look forward to doing business with you and hope you will share the experience you have with us publicly. We welcome letters and will share them on our website so please be specific about your pet and the date of purchase. Our cattery is open to the public (BY APPOINTMENT ONLY)  and we recommend visits. Young kittens are susceptible to illnesses that could be life threatening so after the kittens are 6 weeks old we allow visits (BY APPOINTMENTS). Please be assured that we take every precaution to make sure the kitten you have put a deposit on stays healthy. We have weekly zoom meeting and will send you pictures every 2 weeks showing progress when available.
When your pet leave here he/she has been wormed and received their first shot. I encourage you to take your pet to your own vet within 72 hours so you can rest assured all is well. NACOONZI is not responsible for any vet bills you may incur. If you provide us with a veterinarians test results that genetic defects are found, we will take back the kitten and replace with another. If for any reason you are unable to keep your pet, please do NOT send them to a shelter as we are very happy to advertise him/her on our site to try and find a wonderful new home. If you have any concerns at any time please refer to the sales agreement. Our name and numbers where you can reach us are listed. If we can help in any way, we are happy to do so because each and every kitten raised under foot here are very special to us.  We form a Loving bond with all of them and that's the beauty of staying small.
To start the process of you purchasing a kitten you will need to fill out the information form on the "Contact Us" page and we will email you an application which I personally go over. We want to know where the kitten/s are going to reside. If someone will be home for them, if they have a playmate, the ages of your children/grand children who will co-exist with them. We want to help make the transition from our home to yours as stress-free as possible.
Each kitten will leave us with the following:
First kitten shots.
Wormed Twice.
A kitten blanket.
Eyebrow trimmer for knots.
Toys.
nail clippers.
A Contract signed by us and you.
A pamphlet with good information on your new kitten.
Flea bath.
A recommendation that you feed Royal Canin.
        Heartfelt happy wishes of a very blessed life with your    new   little one
*** We have discovered a new wonderful product called NuVet Plus which are vitamins for your baby.
He or she has been raised on this and we ask that you continue giving this product daily for the entire life.
We believe in this so much that it is incorporated in our health guarantee. Please take the time to read the Taking Care page here on our website.
For your convenience you can call toll-free or go on their website to order. If you get on auto-ship, you save more money. Why wouldn't you feed this to your new family member to ensure a longer much healthier life?
*** We ask that you order Royal Canin& NuVet Plus for your new family member 2 weeks before you are due to pick he/she up.
Important information/disclaimer: We are dedicated to place our kittens in the very best homes, this has nothing to do with economical standing, race, creed, religion or sexual preference. It's all about a safe proper environment and the ability for the family to spend adequate time with the new kitten. A good example of a home we feel is not adequate is where an elderly person resides, and the kitten could cause a fall or get tripped on. Another scenario is where the kitten is left unattended for more than 6 hours repetitively.  Kittens need a lot of care & love; we strongly encourage you to purchase two kittens so they will bond forever and never be lonely. It has recently been brought to our attention there is a condition called "single kitten syndrome" and we can relate as we know each kitten has had a very busy schedule here with all their siblings and multiple adult cats socializing them and when they leave here they are all very confident and ready to begin their new life. We reserve the right to advocate for each and every kitten of ours a safe, proper environment and trustworthy owners.  If we feel these requirements are not going to be met, we will not allow the kitten to go to that home. We will provide a full refund and you will owe nothing.